Bracknell Bees Ice Hockey Shirt Presentation to Beyond the Download Record Shop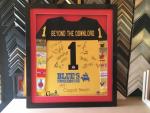 Presentation of a fully signed Bracknell Bees ice hockey shirt to one of their sponsors, independent record shop, Beyond the Download of Rose Street Wokingham.



Beyond the Download, are an independent record shop just outside of Wokingham town centre. Committed to promoting a huge variety of new music, with a love for used vinyl too.

The Beyond the Download team have a real passion for music and vinyl you'll find a huge variety of alternative, hip-hop, indie, rock, electronic, and beyond.. visit the beyondthedownload website

The photo below, taken by shop owner Ian Biles, shows Alan, aka The Picture Framer, presenting shop manager, Dom Hurrell, with the Bracknel Bees Ice Hockey shirt in a stylish box frame, glazed with Tru Vue reflection control glass.